First up and one of my favourite actressed is Kerry Washington who glowed in a grey Balenciaga dress. I love how the dress just skims her baby bump so as to not make it so obvious but you can definitely see she loves her bump and it adds to her over all look. It doesn't look like she's fighting with the changes with her body but rather she's embracing them. The same goes to Olivia Wilde in her gorgeous Gucci gown.
The tight dress accentuates the bump but the dress clearly has beeen tailored to fit her body. Good tailoring is important everyone.
Now for the absolutely tragic. You would think people who had so much and access to some of the best designers around, would nail the red carpet look every time. But alas, that is wrong! Dear readers, you and I can take comfort in that fact.
The biggest affront comes from Jennifer Lawrence aka JLaw (I wonder if she's ok with that?). As the face of Miss Dior and one of the biggest stars right now, she has access to an extensive archive of beautiful dresses but she chose this.
No. Just no. It makes you wonder what other dressed she passed up when she chose this. At least her hair and make up look cute, right? I love the green dangly earrings...yeah thats it.
Then there was Julia Roberts. It looks like she's stuck in the 90s non? I mean, why? She could do so much better. Have you seen that Lancôme ad she was in last year? She looked great. Here she looks really uncomfortable. I do like the belt in the middle though.
I will admit, this year was a good year for the Golden Globes. Some actresses came with their A+ game. Others were in the C/D category, they passed but nothing new or exciting, it was very meh. The rest...well I think we've talked enough about them. Detention!
Special shoutout goes to Angela Bassett in Ines Di Santo and Juliana Marguiles in Andrew Gn. They both just looked absolutely magnificent and I couldn't end on an unhappy note.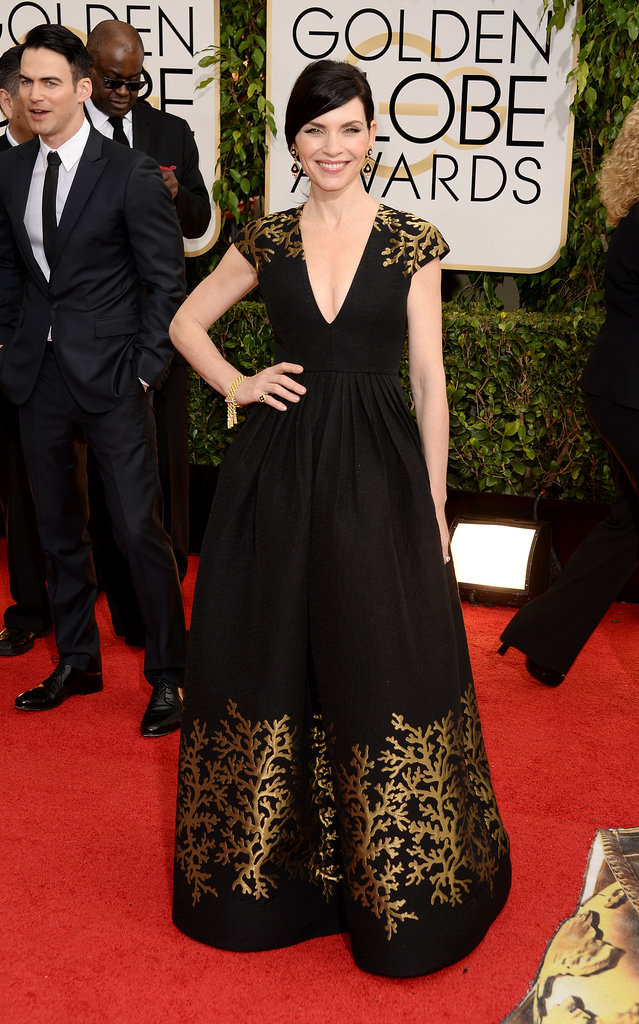 By Monique Simpson
Images: